WINTER BREAK
January 15-29
In order to give the staff a chance to get away, the store will be closed. Online orders will still be filled as soon as they come to our inbox.


---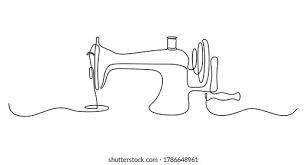 ---
Classes
Call (406.883.3643) or sign up on our website (

allinstitchesmt.com

)
today to hold your spot.
Running With Scissors
Friday, January 6
10:00-3:00, $15.00 + supplies
Carry scissors, markers, rotary cutters and other small tools in this handy tool case. Includes a pocket for rulers. There are only a few openings for this class, so sign up soon!


Block of the Month Nautical Dreams
Starting Wednesday, February 8 (Every 2nd Wednesday/month for 6 months)
10:00 - 3:00 $30.00 includes materials, pattern and class (this is a GREAT deal!)

Join Sandy Taylor as she walks you through the creation of our newest Block of the Month every 2nd Wednesday of the month. This class will start Feb. 8 and will run six months as two blocks will be completed every month. Nautical Dreams is a combination of two mariner's compasses and flying geese. It is surrounded by eight 10" stars and more flying geese. It is a paper pieced design and requires some knowledge of this technique. The pattern includes all the paper patterns needed to make the quilt. The quilt was made with Island Batik fabrics.


SIZE 90" x 90":
DESIGNER : Linda McGibbon
GENRE : Beach & Nautical, Foundation Paper Piecing, Stars
---
NEW FABRIC

From Clothworks: Guess How Much I Love You?



From Free Spirit: Go Fish by Martha Negley




Also from Free Spirit: Root



And: New Kaffe Fassett with matching Shot Cottons



From Moda: Eufloria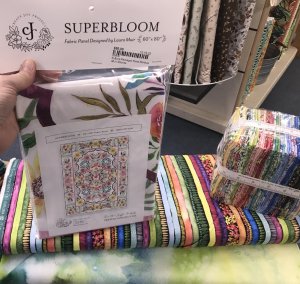 Also from Moda: Floradora by Jen Hewett and the Ruby Star Society


---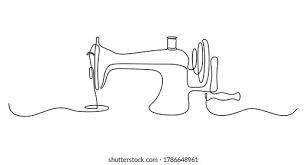 ---
Susan's Musings

What a crazy end to 2022. I have lived in Montana most of my life and this has been some of the strangest weather I have ever seen. My body is telling me though that 15 below is not a temperature that I could get comfortable with. Just makes our upcoming trip to Arizona all that more inviting. Remember the store will be closed from January 16th to January 29th. A much needed break for Pat and I and my employees.
As I start to put figures together for the end of the year I really need to stop and thank our customers who are the reason we can keep the doors open. Obviously without your continued support we couldn't stay open. Beyond the financial support, the encouragement and enthusiasm you all bring is wonderful. Thank you.
Each year brings so many changes for all of us. This was the first Christmas that we didn't spend with one or the other of our daughters. Our Missoula family is busy with their lives and work and wanted to be home for Christmas. Our South Carolina family has farm animals to care for plus the expense of airline tickets for a short visit are out of sight. Fortunately we have good friends who shared their holiday with us. It actually was quite relaxing as I had minimal food contributions to add. So often the reason for the holiday seems to be overshadowed by all the busyness.
My New Year's resolution is that I am not going to make any. The list of what I could and should do is so long that I'm not sure where I would begin. Everywhere I turn there are suggestions of what I should do in the New Year, from health and exercise to better social media exposure for the store, tips on how to be more productive, ways to get out of debt, organizing every aspect of your life. Where would I begin?
I think the most important thing I can do is accept. Accept who I am and where I am at in my life. Sure there are a multitude of things I could change but I need to spend more time being thankful for what I have and where I am at in my life. Sure I struggle. I have days that demands overwhelm me. I stress about paying the bills or even what fabric to order for next Christmas. But when I stop and really look at my life and the blessings I have, it is overwhelming.
If I did make a resolution for the New Year it would be to live each day to the fullest with a thankful heart.
Happy New Year to all of you!