---
NEW FABRIC

From Northcott: My Mother's Garden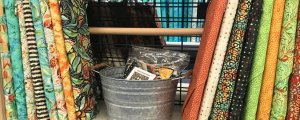 From Banyan Batiks: Destination Indonesia


---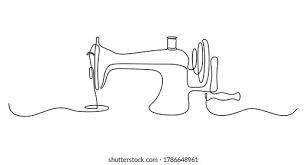 ---
Susan's Musings

Bye Bye spooks and goblins. Hello turkeys, pilgrims, and frantic shopping. Chilly nights and drizzle make for great evenings to sit by the fire and do handwork or turn up the heat in your sewing area and crank out those last minute Christmas projects. For me it would be cranking out projects from several years ago. I am in a panic thinking about the 2 graduation quilts I will need to have done by May.
I wish it would get cold enough for the bears to head to their winter homes. They are driving our dogs crazy at night as they wander through looking for any source of food. We haven't had a good night's sleep in several weeks as Poppy goes into her bear bark routine. How with all the windows closed can she go from a deep sleep to ejecting off the bed and slamming into the sliding door intent on protecting us? She gets so frustrated when Pat won't let her out to really scare the wild critters away. She has no concept of her size versus a bear.
How many of us go through life without any concept of our size versus the obstacles that face us. I'm not talking physical size, although that sometimes is a factor, but our mental size. We all make hundreds of choices each day, some trivial and some monumental. Many decisions we aren't even conscious of making. We get up in the morning, fix our coffee, read the newspaper or peruse Facebook. Maybe turn on the TV to see what happened overnight. Do we stop and think about these things and make a decision? Most of us are on autopilot until the coffee kicks in or maybe not till we are on our way out the door to work. But by this time we have made dozens of decisions, most out of habit and routine.
Once we are marching forward with our day the decision making really starts. There are many factors that affect how we make decisions. A lot of those factors relate back to how we were raised, where we were raised, and our own base of values. Do I decide this way because it is best for me or best for others. When we make decisions there are always consequences. Are we strong enough to accept those?
What is your mental strength? Do you shy away from being the decision maker or are you the one that everyone turns to for the final say? Do minor hurdles send you into stress mode? Are you bold when speaking your opinion and making suggestions? I see quilters everyday battle with decisions, from the simple choice of a pattern to deciding if they have the ability to tackle a new project. As we start with the small decisions the larger ones become easier. We won't gain strength unless we make a decision and forge ahead. Be bold but thoughtful, move ahead and strengthen your abilities.