First Friday
October 1
5:00-7:00



Be sure to bring your Ladies Night Out pass to get $5.00 discount from the participating businesses when spending $25 or more. Participating businesses are: Growlers on Main, All In Stitches, handMADE Montana, Good Coffee Roasting, Beargrass Candles, The Rack, Second Nature Gifts, River Rock Mercantile and Alpine Designs.

Grab your girlfriends and enjoy and early evening out. Remember, at All In Stitches, you and your friends will receive 10% off for shopping together!
Retreat Camp Stitch S'More
October 14-17
We still have a few spots left for last minute retreaters. This is always such a fun time to gather with friends, work on projects, get new ideas and learn new techniques. Please join us! If you need supplies, shop on Wednesday, October 13 to receive your 15% retreat discount.
Looking forward to seeing you there!


Classes


Kreative Kid's Halloween Treat Bag
Saturday, October 9
10:00 - 1:00

Get ready for Halloween by creating your own treat bag!

Bring your sewing machine with an empty bobbin and let's build some skills. If you need to borrow a sewing machine, please contact All In Stitches for a loaner.


It's Not Hard
Beginner's Blocks
Wednesdays, October 6th, 13th and 20th
Time 10:00-4:00
New to quilting? Haven't sewn for years? Like a variety of blocks?


After some practice sewing consistent ¼" seams, we'll construct two different 12" blocks each week. Alternative methods and tools for creating and squaring up half-square triangles will be shown. If you join us weekly, you'll have at least six different classic 12" blocks, but yardage is calculated in the hope that you will duplicate your blocks at home. (Practice may not make perfect, but it will make a larger quilt!)





Twister Gnomes Wall Hanging/Tablerunner
Saturday, October 23
10:00 - 3:00

Join Jan Smith from Kalispell as she instructs you how to construct this adorable project just in time to display it for the Christmas season!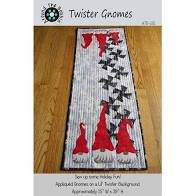 Triangle Frenzy Runner
Wednesday, October 27
10:00 - 2:00
In this class you will make your own border fabric and then create a classy table runner before the holiday season is upon us.





Cork Clutch Class
Saturday, November 13
10:00-3:00

Create this classy cork clutch purse in a day! This class has been so popular. Judiee has agreed to teach this class yet again. Create this classy cork clutch purse in a day! This class has been so popular. Judiee has agreed to teach this class again (and again!). Sign up quickly, as size is limited and we need to make sure we have supplies for you. If you have already taken the class and want to take it again, the cost of the class will be discounted.


NEW FABRIC

From Hoffman:
An Artist's Wonderland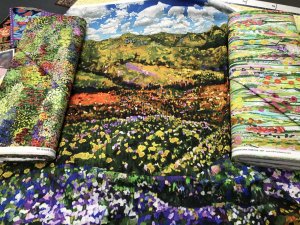 Palette of the Season
for creating
Light As A Feather


(pieced by Susan Gorder)

From 3 Wishes Fabrics:
My Happy Place


From: Moda
Through the Woods




Jungle Paradise




And Fall Fantasy Flannels




And from Free Spirit:
Into the Woods


Susan's Musings

What an incredible Fall Day. How can you not love these clear skies , the crisp air and the changing colors. Okay it does signal what is coming ahead when you look up and see the snow on the top of the Missions or wade into the chilly water to hook up the boat to pull it out for the season. The Fall chore list is posted on the fridge door and a few things have been checked off. At the top of the list is a trip to Glacier and I am hoping Pat and I will head that way this week end if the weather man 's prediction of little to no chance of rain on Saturday and Sunday holds true.
Sometimes we just need to be reminded of the magnificence of where we live. One of my out of state fabric vendors stayed with us this week and fell in love with the beauty of this area. She stood on our deck and just drank in the setting sun, the calm water and the mountains. She called it her retreat home while on her 6 week road trip visiting stores across Montana, Idaho , Utah and Nevada. We spent the evening enjoying dinner, sharing a bottle of wine and visiting. It is so uplifting to find a person in your life that you immediately connect with on so many levels. Obviously we share quilting and a love of fabric. But as we shared our life experience, it became clear that even though we have only known each other a few years, the bond of what life has taught us was common.
The importance of having deep rich friendships cannot be overlooked. We don't have to come from the same place, be at the same place in our lives but we need that relationship of good friends whom we can be open and honest with regularly. I am blessed in my life to have a number of these special friendships. I am reminded that it is the quality of the friends we have that is important not the number.
A busy October lays ahead as we prepare for the upcoming retreat and have a number of great classes on the calendar. New fabric comes in the back door on a regular basis. The website is finally up and active, even though still missing some pictures. I am sure it will continue to be a work in progress. Everyone here has been great at spending the hours needed to reach this point. I have a great team!